04 Mar
The Top 10 Infento Rides
Netflix has just introduced a new feature to check the top 10 of movies and series in your country. Data means knowledge, and wouldn't it be great to discover which Infento Rides are most popular amongst families like yours, and why? We decided to dive deep into our own data and present to you: The most built models, the pearls in the lineup…
Swing
Why families like the Swing? This recumbent tricycle provides extra fun by the low riding position and special steering system.
"My daughter is so proud after building the Swing together! Lovely bonding experience, and now she's enjoying her ride." – Jane
Ox
A mini go-kart, with four wheels! The bigger version of the Booster is loved by kids for its carriage crate in front.
"My kids love putting cargo in their Ox and playing delivery boy and girl or even gardener!" – Rob
Balancer
The parent's favorite for small kids that are ready for a balance bike. This Ride gives kids the opportunity to learn how to steer and move forward while keeping balance on a bike.
"My son is crazy about the Balancer! Congrats on this amazing product!" – Nicolas
Wallaroo
For taking the very first steps of their life, parents trust in the Wallaroo to assist their kids.
"Our son is only 10 months old and he loves the Wallaroo. The best kids' set we ever bought." – Zsolt
Minibike
Kids and parents fall for this Ride because of the real motorbike looks and electric motor.
"My 10 year old son is enjoying his Minibike tremendously. Quite often he is stopped by people who want to admire his bike and want to know more about it. Completely in love with Infento!" – Dutchie
Booster
Parents choose this Ride to boost their kids' cycling skills. It's a perfect warmup for a bigger bike.
"My girl loves being able to pedal and with three wheels it's a stable and safe ride." – Jessica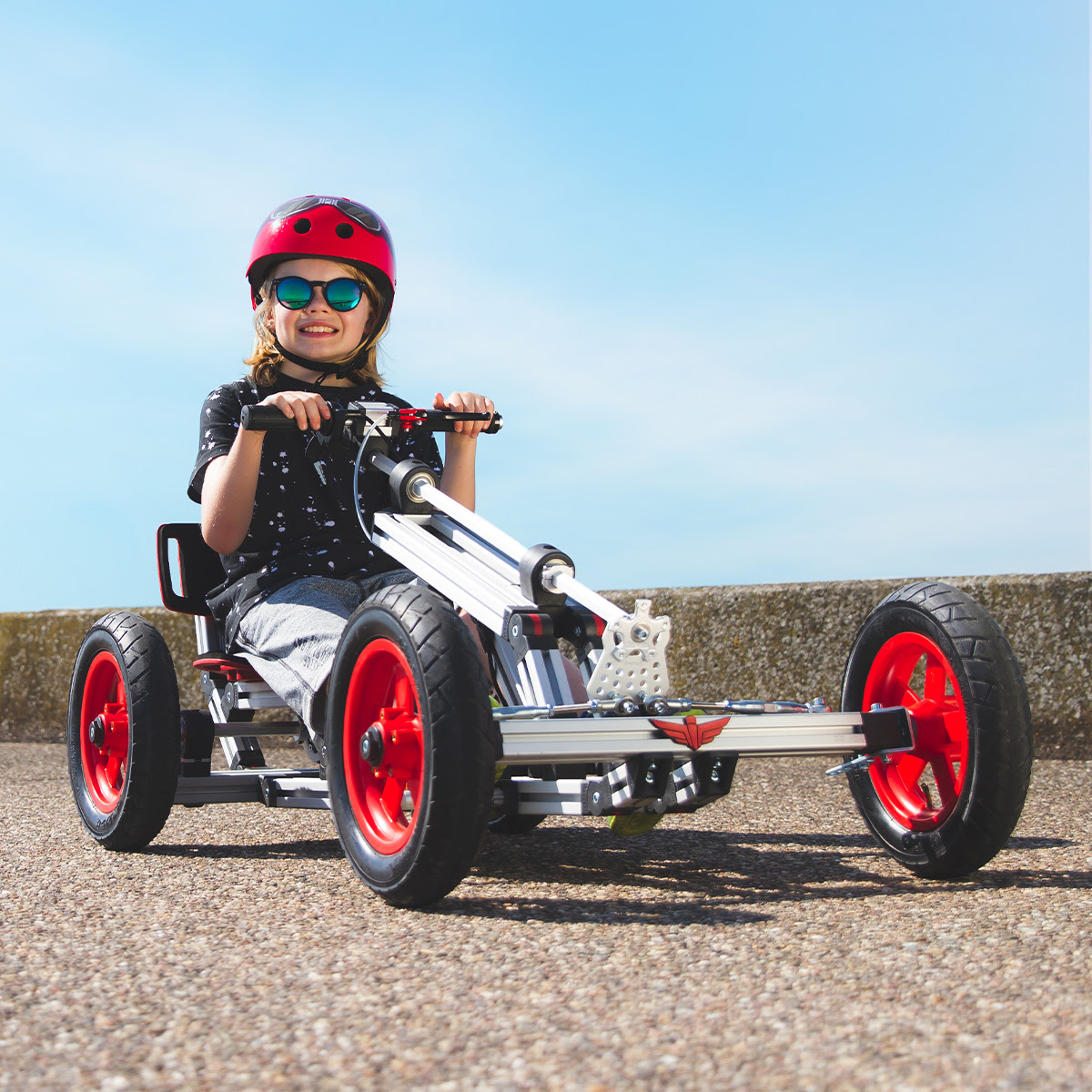 Hot Rod
A real electric go-kart, the Ride that is deservedly most liked amongst the proud Legend Kit owners.
"Our first model, the Hot Rod, is finished and we are very happy." – Dominik
Tornado
A tricycle with a twist: it can drift thanks to the swivel wheels at the back! No wonder this Ride is like a magnet to kids.
"The Tornado feels like a strong and sturdy bike. My two kids are loving it." – Áine
Speedster
The Speedster is on a roll! A second place in the top 10 thanks to the great looks and fancy Stabilizr System used for steering.
"I really enjoyed building the Speedster with my 10 year old son. He now loves going out on it to the park. Great product!" – Duncan
Arrow
The big winner is the Arrow! Both parents and children go crazy for this Ride. With its 3 wheels and V-shaped nose, this go-kart makes a grand entrance at any park or schoolyard. A rightful crowd's favorite, and… as swift as an arrow!
"So wonderful to see my kids playing with the Arrow. Big hit. If they could choose, they would take it everywhere they go." – Suzanne
What is your personal favorite from our top 10? Feel inspired to get building as well?