⚡ ePulse® electric motor Included
Junior to Legend Kit Upgrade
What you can build with your family - 2 Rides!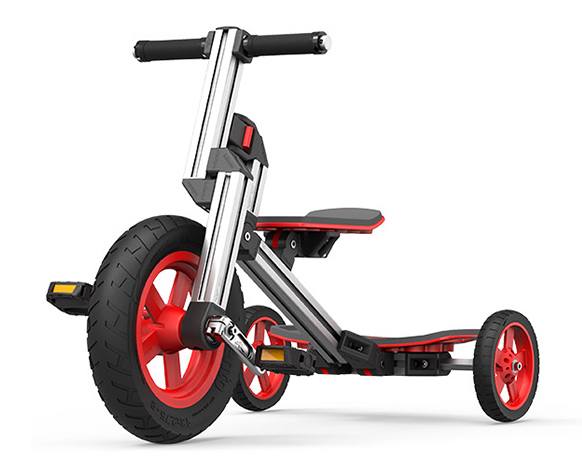 Length: 97 - 127 cm / 38 - 50 inch
Max weight: 31 kg/ 69 lbs
This is yet another unique creation. Put your feet on the profile. Place hands on the handlebars. Zig. Zag. Zig. Zag. Because of weight distribution and the caster wheels you start moving forward. And it doesn't end there! Want to go faster? Get your hex key, change the angle of the front profile and gain more speed.
Length: 130-160 cm / 51-63 in
Max weight: 70 kg / 154 lbs
Lean back and drive around with class. This recumbent tricycle looks awesome and will really spark your creativity. The riding position and steering are truly something different…. in a very positive way! You can be certain that this ride really swings!
Length: 75-88 cm / 30-35 in
Max weight: 30 kg / 66 lbs
Wallaby teaches you how to walk. It is our cool version of a walker. Put your stuffed animal or other cargo in the crate and take it for a walk. It's very easy to adjust how smooth the wheels go round. This way you never go too fast or slow and you will stay in an upright position.
Length: 88-98 cm / 35-39 in
Max weight: 30 kg / 66 lbs
Have you ever seen a balance carrier? Well now you have. Transport anything with our Transporter. What about your favorite dinosaurs or stuffed animals? Or become a freman or builder and transport water or mud. Just grab the steer and let your creativity go wild.
Length: 98-120 cm / 39-47 in
Max weight: 30 kg / 66 lbs
Skitter is a fast and good looking scooter. It's incredibly strong and steers very swiftly. The ball bearings in the wheels guarantee a super silent ride. Just enjoy the feeling of the wind when you move. Losing speed? Just pedal with your foot and you're on the move again!
Length: 98-113 cm / 39-44 in
Max weight: 30 kg / 66 lbs
Trivelo must be the most awesome tricycle ever constructed. The seat, handle and crank are adjustable in height to ensure the perfect position. Jump on, grab the steer, start pedaling and off you go!
Length: 105-113 cm / 41-44 in
Max weight: 30 kg / 66 lbs
Learn how to keep balance. Understand the concept of steering towards the direction of where you're falling in stead of going against it. With the Balancer you will be ready for a bicycle in no time. The ride is multi-adjustable. Height, distance to the steer and angle of the seat. Very handy when you've grown a bit.
Length: 88-98 cm / 35-39 in
Max weight: 30 kg / 66 lbs
Rider is a balance trike that teaches you how to steer and to experience what it feels like if you move with more speed. Take it for a ride indoors or go for a spin outside when the sun shines. Just hop on, move your legs and off you go!
Length: 98-120 cm / 39-47 in
Max weight: 20 kg / 44 lbs
The Trimax offers stable fun thanks to its two wheels at the back. The perfect stopover before the Skitter. No need to focus on the balance, just scoot and learn how to maneuver. Don't forget to wave at the neighbors when they see you whizz by in style.
Length: 105-125 cm / 41-49 in
Max weight: 30 kg / 66 lbs
Twist and turn! One big wheel up front, two small ones at the back. Heaps of entertainment guaranteed. When you steer to the left you go to the right. This counterintuitive steering stimulates the young brain. Ready to take it for a spin?
Features
ePulse® System
Discover the power of electricity. Turn your ride into an electric vehicle and be the new Elon Musk!
4 Inch Wheels
Swivel, turn, drift, play! These small wheels offer easy maneuvers indoors and unlimited spinning fun outdoors.
Belt
Not an iron chain but a maintenance-free rubber toothed belt. Safe, clean and durable. Now with a belt shield!
Stabilizr® System
A unique system that triggers development. Improve your balance and learn how to lead your ride in the desired direction
Disc Brake
A big disc brake with brake pads. Just like on a car or motorcycle! This will ensure you of quick and safe stops.
Large Rides
Includes 3 pedal go karts and a recumbent tricycle. Discover the world on these large Rides!
Create your rides with
657 quality parts
Everything you receive in one box
Infinite inventions
parts
Rides
Be a creator and hit the road with these eye-catchers!